#07- Storm Door Crash Chain
This storm door crash chain will work with most wood and metal doors. This chain will prevent the door from overextending causing damages to the hinges. Chain is made of high-quality steel.
Work with most metal and wood doors

Heavy duty spring

Includes all mounting hardware 
| Details | |
| --- | --- |
| Depth | 24 in. |
| Height | 0.75 in. |
| Width | 0.75 in. |
| Weight | 0.34 lb. |
| Material | Steel |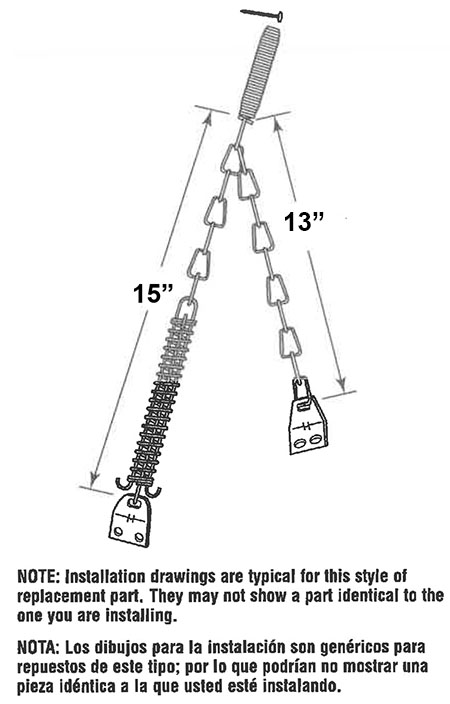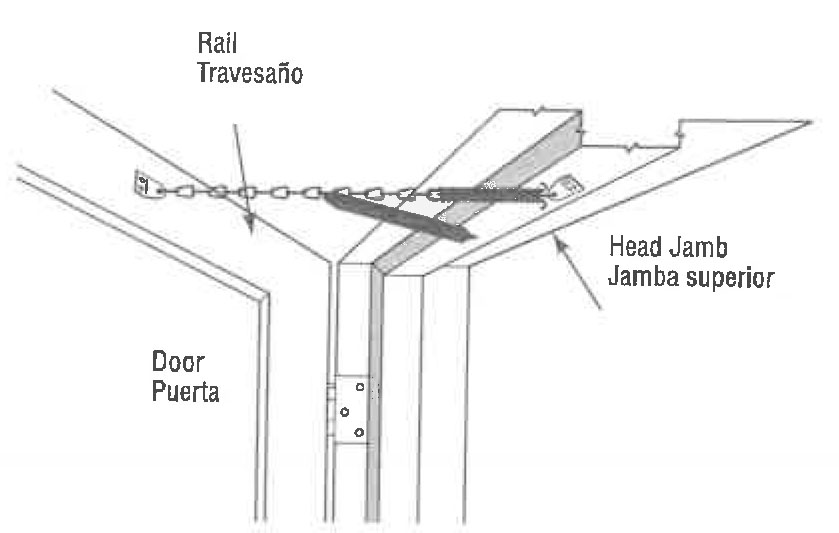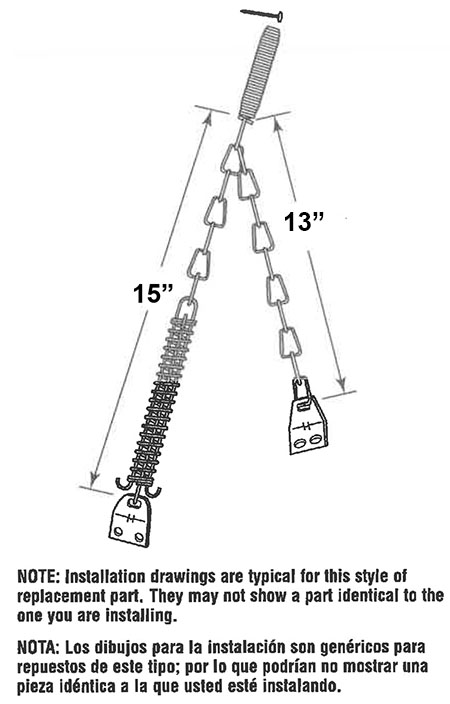 Installation Instructions
CAUTION: Read Carefully to Avoid Misdrilling Door.
STEP 1: Locate bracket with large compression spring attached to the head jamb of door approximately 17″ from hinged side of jamb. Pre-drill using 1/8″ drill bit. Bracket should be angled slightly toward the hinged side and must be located on jamb so that it clears door when closed. Install with 2-#10 x 3/4″ sheet metal screws                     
STEP 2: Assemble remaining bracket to loose end of chain by inserting S-hook to bracket and chain link. Open door to 90° and extend chain with bracket in place to meet top door rail; mark location of holes and pre-drill with 1/8″ drill bit. Remove bracket from chain and install to door frame with 2- #10 x 3/4″ sheet metal screws. Use any link necessary, when reattaching chain to bracket, that properly regulates door opening.  
STEP 3: Close door and select link that hangs at bottom of loop. Attach one end of small (hold-up) spring into link; place other end of spring thru nail head and nail into head jamb 1″ from face of door. This hold-up spring should not be  stretched over 1/4″ when  door is closed. 
CUIDADO: Lea cuidadosamente para evitar taladrar la puerta erradamente.
PASO 1: Coloque el soporte con el resorte de compresión grande en la jamba superior de la puerta aproximadamente a 43 cm de la amba vertical abisagrada. Taladre 2 orificios piloto con una broca de 1/8″. El soporte debe estar levemente inclinado hacia el lado abisagrado y debe colocarse en la jamba de modo que la puerta no lo golpee al cerrar. Instale con 2 tornillos autoenroscantes No. 10 x 3/4″ para metal.
PASO 2: Ensamble el otro soporte en el extremo suelto de la cadena insertando el gancho "S" en el soporte y un eslabón de la cadena. Abra la puerta 90° y extienda la cadena colocando el soporte en posición para que se encuentre con el travesaño superior de la puerta; marque la posición de los orificios y taladre 2 orificios piloto con una broca de 1/8″. Saque el soporte de la cadena e instale 2 tornillos autoenroscantes No. 10 x 3/4″ para metal. Al reinstalar la cadena en el soporte hágalo de cualquier eslabón que sea necesario para regular la abertura de la puerta.
PASO 3: Cierre la puerta y seleccione el eslabón que cuelga en la parte inferior. Instale un extremo del resorte pequeño de retenciónen el eslabón y el otro extremo inserte un clavo con cabeza y clávelo en la jamba superior a 25 mm de la cara de la puerta. Esteresorte de retención no debe estirarse más de 6mm cuando la puerta esté cerrada.