#427- Lenahan Patio Door Roller Nylon Wheel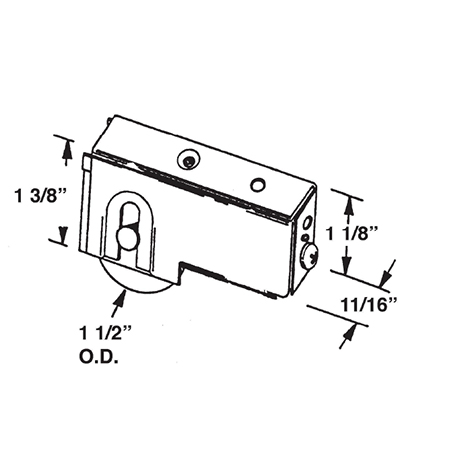 To remove door, open completely, lift up and tilt out.

To remove roller, remove mounting screw. If you have a second mounting screw, you may have to remove the bottom door frame by carefully tapping it off. Replace roller and install mounting screws. Place vinyl "u" channel back on glass and tap bottom frame back in place.

Adjust rollers by turning the adjustment screw in the back of the roller and adjust handle strike if necessary.
Para remover la puerta, abra completamente, levanter y gire hacia afuera.

Para remover el rodillo, remueva el tornillo de montaje. Si tiene un segundo tornillo de montaje, es posible que tenga que quitar el marco inferior cuidadosamente tocandolo suavemente. Cambie el rodillo e instale los tornillos de montaje. Re-instale vinilo tipo "u" en el vidrio y monte el marco inferior.

Ajuste los rodillos rotando el tornillo de ajuste en la parte trasera del rodillo y ajuste el mantenedor de la cerradura si fuera necesario.