#118- Bi-Fold Closet Door Bottom Pivots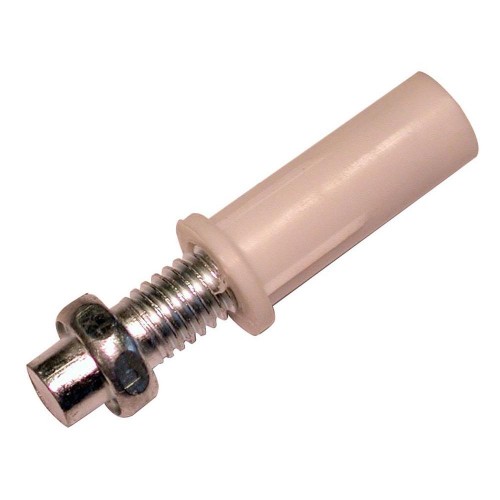 This Bi-Fold closet door bottom pivot is made of durable steel and nylon. This pivot is adjustable for easy installation. Made of long lasting steel.
Adjustable height

Works with #88 jamb bracket as well as styles from other manufacturers

Nylon base has a 3/8 in. diameter

Long-lasting steel shaft
| Details | |
| --- | --- |
| Depth | 0.3125 in. |
| Height | 1.125 in. |
| Width | 0.3125 in. |
| Material | Nylon |
| Weight | 0.03 lb. |
| Finish | Mill/White |
Remove door by lifting up and tilting bottom up.

Replace bottom pivot with new one

Adjust vertical position by rotating the wheel on the pivot. Doors should clear header.

Adjust the door horizontally by lifting the bottom pivot and sliding it into the required slot on the jamb bracket leaving at least a 1/8" gap between the doors and the jamb.
Desmonte la puerta levantandola y girando hacia afuera.

Remueva el pivote inferior viejo e instale el Nuevo.

Ajuste la puerta verticalmente rotanto la rueda en el pivote. La puerta no debe tocar el travesano superior.

Para ajustar la puerta horizontalmente levante el pivote inferior y deslice en la ranura de la base dejando por lo menos 1/8" espacio entre la puerta y la pared.